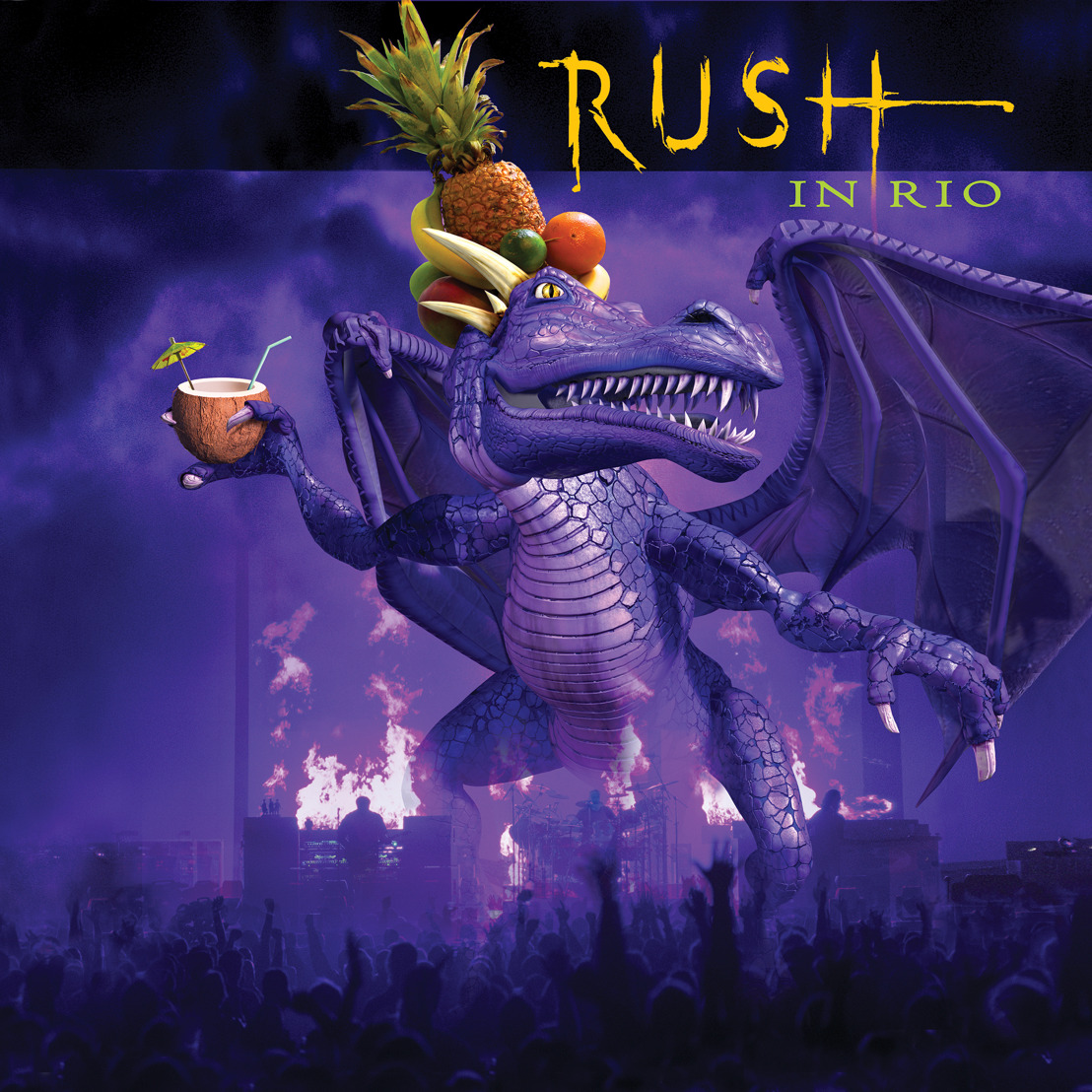 Anthem to Release Rush In Rio on Vinyl on January 18, 2018
Tuesday, November 20, 2018 — Four-LP Set Includes The Rock And Roll Hall Of Fame Trio's Entire 2002 Performance In Rio de Janeiro, Plus Two Bonus Tracks From The Same Tour
FOR IMMEDIATE RELEASE
TORONTO, ON – Following a nearly five-year break from touring, Rush returned to the stage in 2002 to support the trio's seventeenth studio album, Vapor Trails. During the tour, Geddy Lee, Alex Lifeson and Neil Peart played to some of the biggest crowds of the band's career, including 40,000 people at the tour's final stop in Rio de Janeiro. That concert was released in 2003 as RUSH IN RIO, which was certified gold in the U.S. and Canada.
That live album was originally released on CD and DVD but has never appeared on vinyl – until now. RUSH IN RIO will be available on January 18 via Anthem/ole label group as four 180-gram LPs. The set is presented in a heavyweight gatefold jacket and comes with a code that allows the music to be downloaded digitally.
The collection includes all 29-songs the Rock and Roll Hall of Famers' performed at the concert in Rio, plus two bonus tracks that were recorded at other stops during the Vapor Trails Tour. "Between Sun & Moon" was recorded on September 27, 2002 in Phoenix, AZ and "Vital Signs" was recorded on October 19, 2002 in Quebec City, Quebec.
Guitarist Alex Lifeson states, "In all the years of touring, few gigs matched the energy we witnessed from the Rio audience. Throughout the night, they sang along to every song, which was quite a feat considering English is not so commonly spoken there. They even sang robustly during 'YYZ' and that's an instrumental! In fact, during mixing, we often pulled the band tracks down and just listened to the audience and it was mind-blowing. We were all so surprised by the welcome we received and the deep connection our fans had to Rush. It remains one of the greatest highlights we've experienced in over 40 years of touring."
Making the show in Rio rare and extraordinary, fan favorites that are rarely played together on the same night were peppered throughout the set list. This included the sprawling sci-fi epic "2112," as well as "Closer To The Heart," "YYZ," "Freewill," "New World Man," "Tom Sawyer," and "Limelight." One of concert's high points is Peart's drum solo, which is titled "O Baterista," Portuguese for "the drummer." That performance earned the group a GRAMMY Award ® nomination for the Best Rock Instrumental Performance.
The songs that appear on RUSH IN RIO span the group's entire career up to that point, including several tracks from Vapor Trails: "Earthshine," "One Little Victory," "Ghost Rider" and "Secret Touch." The remainder of the set list touches on most of Rush's studio albums, including 1996's Test For Echo ("Driven," and a rare acoustic performance of "Resist"); 1984's Grace Under Pressure ("Distant Early Warning" and "Red Sector A"); 1980's Permanent Waves ("The Spirit Of Radio" and "Natural Science") and 1974's self-titled debut ("Working Man.")
Since forming in 1968, Rush has become one of the world's most-popular progressive rock bands. Between its debut album in 1974 and its final large-scale tour in 2015, the band has sold more than 40 million albums around the world, earning 24 gold, 14 platinum and three multi-platinum albums.
RUSH IN RIO LP Track Listing:
Side One
"Tom Sawyer"
"Distant Early Warning"
"New World Man"
"Roll The Bones"
Side Two
"Earthshine"
"YYZ"
"The Pass"
"Bravado"
Side Three
"The Big Money"
"The Trees"
"Free Will"
"Closer To The Heart"
Side Four
"Natural Science"
"One Little Victory"
"Driven"
"Ghost Rider"
Side Five
"Secret Touch"
"Dreamline"
"Red Sector A"
"Leave That Thing Alone"
Side Six
"O Baterista"
"Resist"
"2112"
Side Seven
"Limelight"
"La Villa Strangiato"
"The Spirit Of Radio"
Side Eight
"By-Tor & The Snow Dog"
"Cygnus X-1"
"Working Man"
"Between Sun & Moon"
"Vital Signs"
-30-
About ole label group
ole label group is the innovative record label division of ole, the world's fastest growing rights management company. The division includes: anthem, the label home of Rush, Big Wreck, Ian Thornley, Steven Page, and The Tea Party; anthem LEGACY which houses legendary catalogues by such artists as Stompin' Tom Connors, Max Webster, Lighthouse and Ian Thomas, and red dot, which has developed, released or up-streamed artists including: Haley Reinhart, George Canyon, Austin Jenckes, Josh Dorr, Sam Grow, Maddison Krebs and Jordan Davis.
Laura Steen Public Relations and Promotions Manager, Strut Entertainment